[ACNS, by Gavin Drake] The former 'Vicar of Baghdad', Canon Andrew White, is returning to "his people" in the Middle East today as he continues his epic fight for peace and reconciliation in the region.
The former Vicar of Baghdad was forced to leave Iraq a year ago as Daesh – the self-proclaimed Islamic State, or ISIL – marched towards the capital. But he has never abandoned the people.
His Foundation for Relief and Reconciliation in the Middle East (FRRME) continues to provide support for Christians in Iraq – and also for the last remaining Jews in the country; now numbering just six.
And the number of Christians in the country is also dwindling.
Canon White returns to Iraq occasionally to oversee the work; but the bulk of his time now is spent looking after Iraqi Christian refugees who have made a new, temporary, home in Jordan.
He has spent the past two weeks in the UK promoting his new book,
My Journey So Far
. His impressive track record in reconciliation work is hinted at through the public endorsements the book has received.
The Chief Rabbi of Norway describes White as "a messenger of divine peace in the world". The Grand Ayatollah of Khadameer says he is "the spiritual leader of all of us [and] has stood with us our been our supporter and defender for nearly two decades." And Canon J John says that White's "Rollercoaster of a journey . . . will infuse faith, hope and love."
In the past week, Andrew White has given over 80 interviews to television, radio, newspaper and magazine journalists. ACNS caught up with him at Guildford Cathedral after he preached at a service for Remembrance Sunday – the day Britain and other Commonwealth countries pay tribute to members of the armed forces who were killed in war.
For the past 13 years, White had spent Remembrance Sunday in war zones, he told the congregation, so it was a strange experience to mark the occasion in a peaceful Guildford.
Soldiers from Two Troop of the 579 Squadron 101 Engineer Regiment – the Explosive Ordinance Disposal and Search team (bomb squad) – took part in the service by firing a volley of shots to mark the beginning and end of a two-minute silence.
White paid tribute to them, and their comrades. "They are not about war," he said in his sermon, "they are about fighting for peace. . . I am also involved in that passionate fight to find peace and wholeness and security; to bring healing to a broken world. And that is what our military are also trying to do."
Speaking of the Iraqi refugees in Jordan, he said "They do not know what will happen to them tomorrow. They do not know what their future holds. What we do is assure them that we will not stop fighting for them to know peace."
Before the service, the Archdeacon of Guildford, the Ven Stuart Beake, reminded Canon White of their time together at Coventry Cathedral's international centre for reconciliation. They had been discussing prayer requests and Canon White said: "I need some more Kalashnikovs!"
To laughter from the cathedral congregation, Canon White said: "It shows the place that I come from."
He is a passionate believer in bringing together people who profoundly disagree with each other. And this aspect of his work dominated many of the media interviews of the past week. He had invited some of the leaders of Daesh to have dinner with him. "It seemed the right thing to do, you meet, you eat," he said.
But the leaders told him that they would come for dinner but that they would chop his head off afterwards. "So I didn't push it any further," he said. "My head might not be perfect, but at least it works!"
That experience, and the total depravity of violence committed by Daesh against Christians and others they oppose has persuaded him that the advance of Daesh can't be resolved through dialogue.
"They are quite a long term threat and there is no imminent disappearance of them," he said in an interview in the Cathedral's refectory, "The only way that they can be overcome on the ground is by military presence on the ground.
"I also know that there is nothing the Iraqis can do themselves. And I have very little faith in anything the Arab world can do as well."
Canon White said that it was hard for him, as a peacebuilder, to make this argument, but he called on Western governments to increase their military intervention on the ground – something for which he recognized there was no political will for.
"People are so concerned about how things are seen in their own country; and the fact is you could never get support for an on-the-ground presence in America or in the UK."
Following the Iraq war, many Iraqis resented the ongoing presence of Allied troops in the country, but, Canon White said, "they were also against the fact that the troops all pulled out and left them. That was the one thing that gave them some stability; because even though the troops were not on the ground and obvious; they were in the background and if anything went wrong they would go out into the fore.
"But now there is nobody there. The Iraqis have said there is no way they can do this on their own. They need help." It is an issue that White raises with governments and politicians "all the time," he said – the only time he sounded weary during the interview – "all the time. Several times this last week. Not today or yesterday, but most of the time."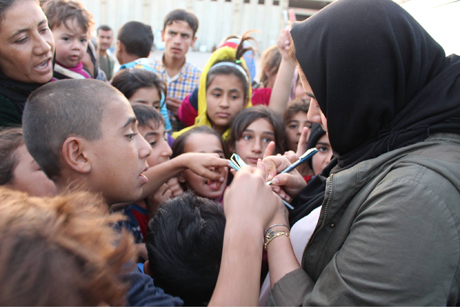 Foundation for Relief and Reconciliation in the Middle East project worker Dr Sarah Ahmed in Erbil, Kurdistan. Photo: FRMME
Despite the serious and desperate nature of his work, Canon White has kept a very cheeky humour.
As he signed copies of his book in the Cathedral bookshop, one lady tells him that she has read all of his other books. "You haven't read my first book. It was about the use of trichloroethane in caesarean sections," Canon White, a former anaesthetist, said.
And when another lady tells him "I'm sure you're a living saint," he replies: "Look, I'll be honest with you," and then pauses before saying: "Yes. Yes, I am!", adding: "we all are."
One of the biggest motivators is his love and concern for children and young people. As he signs copies of his book he hands out small olive wood crosses to young people who are there with their parents. "This was made by my friend in Bethlehem," he tells an eager young girl. "He is a carpenter called Joseph." And he encourages the girl to take it to her school and show it to all her friends.
"I have always tried to be joyful with whoever and in whatever," Canon White says. "I always try and make sure that I keep happy, even in the midst of the most terrible times I have always been able to laugh.
"I have always been able to talk with little…" and as we speak, right on cue, we are interrupted by a young girl and her mother who want to say goodbye before they leave, "…little girls like Esther" – They had only met briefly while he signed her mother's book and as he gave her a cross; but he remembered her name as she came over with a beaming smile on her face. "Don't forget to take your cross to school," he said as she gave him a goodbye hug.
"That's the joy of life," he said. "You have got to, in the midst of war and terror, you have to look for joy. People often say to me, 'how do you keep going?' and I honestly say 'I keep going for my children.' When I say 'my children' I don't mean my boys, I mean the children that I am working with, the children who part of our community, and even little children like Esther."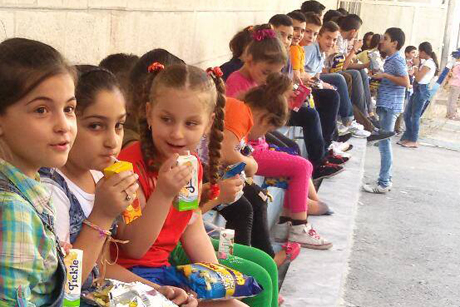 Iraqi refugee school children. Photo: FRMME
Through his foundation, Canon Andrew White is currently providing support for up to 500 Christian families in Jordan, providing food, medicine, accommodation and education. And on the education side, he is negotiating with the Iraqi Ministry of Education so that education provided to Iraqi refugees outside the country can receive accreditation. This will enable the education to go on people's official education record so that it can count when they are eventually able to return to Iraq.
When asked what drives him, Canon White says he "hopes it has something to do with God!"
He continues: "I am very passionate, and very radical and very ruthless; and my motto is don't take care – take risks. And that is what I do."
Canon White continues to work on interfaith dialogue and peace building between Christians, Jews and Muslims in Israel and Palestine; but the biggest call on his time now is as pastor to the refugee community in Jordan. He spends around two weeks a month in Jordan, one in Israel and Palestine, and another in the UK or USA.
And he isn't put off by major catastrophes such as the rise of Daesh.
I last interviewed Andrew White exactly three years ago, to the day. Justin Welby was just about to be named as the next Archbishop of Canterbury and I wanted White's take on it. He was delighted, of course, and was looking forward to inviting the new Archbishop to visit St George's Cathedral in Baghdad – a move which, just three years on, currently seems impossible.
I put to Canon White that it must be hard to remain motivated when so much of his ministry has crumbled away.
"The fact is, that is the truth," he said. "So much of what I have worked for has disappeared; but so much has remained. The people are still there doing the work. The numbers have come down from 6,500 in Baghdad. There were only 40 in church last week in Baghdad; but my community in Jordan . . . we are still providing for the needs of the people even in places of war."
The refugee community "isn't Episcopal or Anglican," he says. "My community has given up saying we are Chaldean, Orthodox, Episcopal, Catholic. They are Christian. It is a Christian community.
"That is very important. It is terrible thing to say the only real serious ecumenical relationships I have ever seen are as a result of this terrible persecution. Denominations come tumbling down."
And while Canon Andrew White has a team on the ground doing the work; and a larger team of international supporters through his Foundation for Relief and Reconciliation in the Middle East, he needs the wider church to help: "We need the church to do just two things: to pray for peace and pay for peace.
"We need prayer and we need practical help. We can't do this work with nothing. We need more than just a cup of tea from a church after the service.
"We need prayer for protection; we need prayer for perseverance, so we can keep going; we need prayer for provision, so we can provide for the needs of the people; and we need prayer for peace: Four Ps for peace: Protection, Perseverance, Provision and Peace."