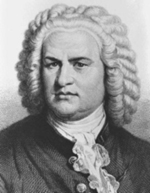 Johann Sebastian Bach was born on March 21, 1685 .
As we commemorate today Good Friday, the death of Jesus on the cross, it would be the perfect day to listen to Bach's St. Matthew Passion or St. John Passion.
You can read more about Bach here:
http://en.wikipedia.org/wiki/J.S._Bach
You can read the lyrics and more about St. Matthew Passion here:
http://music.minnesota.publicradio.org/features/0104_passion/index.shtml
Good Friday Collect:
Almighty God, we pray you graciously to behold this your family, for whom our Lord Jesus Christ was willing to be betrayed, and given into the hands of sinners, and to suffer death upon the cross; who now lives and reigns with you and the Holy Spirit, one God, for ever and ever. Amen.