On June 27 of last year, as the shock of the 9 murdered in Emanuel AME Church in Charleston, SC still rocked our nation and debates raged about what to do with the Confederate Flag that still waived in many places throughout the south, Bree Newsome, a 30 year old Christian activist & artist climbed the flag pole at the State Capitol of South Carolina and unhooked the Confederate flag.
"You come against me with hatred and oppression and violence. I come against you in the name of God. This flag comes down today!"
She recited Psalm 27 and the Lord's Prayer as she brought the flag down and was arrested when she hit the ground.
Psalm 27

1 The LORD is my light and my salvation; whom then shall I fear? *
the LORD is the strength of my life; of whom then shall I be afraid?

2 When evildoers came upon me to eat up my flesh, *
it was they, my foes and my adversaries, who stumbled and fell.

3 Though an army should encamp against me, *
yet my heart shall not be afraid;

4 And though war should rise up against me, *
yet will I put my trust in him.

5 One thing have I asked of the LORD; one thing I seek; *
that I may dwell in the house of the LORD all the days of my life;

6 To behold the fair beauty of the LORD *
and to seek him in his temple.

7 For in the day of trouble he shall keep me safe in his shelter; *
he shall hide me in the secrecy of his dwelling and set me high upon a rock.

8 Even now he lifts up my head *
above my enemies round about me.

9 Therefore I will offer in his dwelling an oblation with sounds of great gladness; *
I will sing and make music to the LORD.

10 Hearken to my voice, O LORD, when I call; *
have mercy on me and answer me.

11 You speak in my heart and say, "Seek my face." *
Your face, LORD, will I seek.

12 Hide not your face from me, *
nor turn away your servant in displeasure.

13 You have been my helper; cast me not away; *
do not forsake me, O God of my salvation.

14 Though my father and my mother forsake me, *
the LORD will sustain me.

15 Show me your way, O LORD; *
lead me on a level path, because of my enemies.

16 Deliver me not into the hand of my adversaries, *
for false witnesses have risen up against me, and also those who speak malice.

17 What if I had not believed that I should see the goodness of the LORD *
in the land of the living!

18 O tarry and await the LORD'S pleasure; be strong, and he shall comfort your heart; *
wait patiently for the LORD.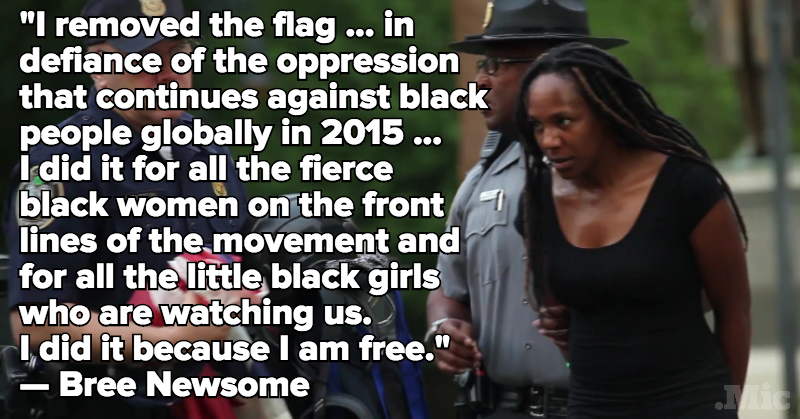 That is putting your faith into action.
A helpful reflection:
http://www.slate.com/articles/news_and_politics/politics/2015/06/after_obama_s_eulogy_to_clementa_pinckney_and_bree_newsome_taking_down_the.html
And now a year later, Bree Newsome reflects:
https://sojo.net/articles/bree-newsome-sustaining-daily-grind-activism
There is a lot of work to do. May we role up our sleeves and get to work (and climb some poles!).
Almighty God, who hast created us in thine own image: Grant us grace fearlessly to contend against evil and to make no peace with oppression; and, that we may reverently use our freedom, help us to employ it in the maintenance of justice in our communities and among the nations, to the glory of thy holy Name; through Jesus Christ our Lord, who liveth and reigneth with thee and the Holy Spirit, one God, now and for ever. Amen.