"Rebuild the Churches Fund"
Unites Faith Communities to Rebuild Burned Black Churches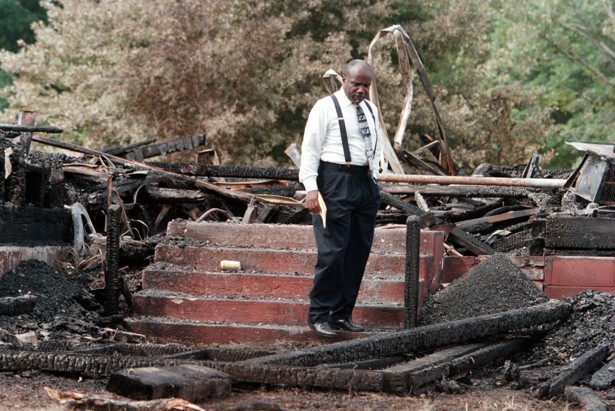 In late June, at least four predominantly black churches were burned by arsonists in a clear attempt to strike a blow at the heart of the American black community. Christ Church Cathedral (Episcopal) in St. Louis is coordinating the Rebuild the Churches Fund to unite people of all faiths in standing with their sisters and brothers to help rebuild these buildings -- which are not just houses of worship but centers of ministry for their communities.
After setting an initial goal of $25,000, the fund doubled that to $50,000 after receiving nearly $19,000 in the first 72 hours after the online giving portal went live. All money received will be divided equally among these congregations:
· Glover Grove Baptist Church, Warrenville, SC
· College Hill Seventh Day Adventist Church, Knoxville, TN
· Briar Creek Baptist Church, Charlotte, NC
· God's Power Church of Christ, Macon, GA
The funds will be designated to cover rebuilding costs not covered by insurance. If money is raised beyond that, it will be permitted to be used to expand or improve the physical plant so that it may better serve the wider community. If other black churches are burned or previous fires are deemed to be arson, those churches will be added to the distribution list. The fund is being managed and funds will be disbursed by Christ Church Cathedral (Episcopal) in St. Louis.
Over 50 Faith communities -- Christian, Jewish and Muslim -- in 21 states had committed to have at least one special offering for the churches during July as a sign of interfaith solidarity against racism and with their sisters and brothers of faith.
(St. Peter's will be July 12.)
"These acts of terrorism are not only an attack on the human dignity of our black sisters and brothers, they are an attack specifically leveled on their most sacred spaces," said Christ Church Cathedral Dean Mike Kinman. "The only way to meet this hatred is with love. That's what the Rebuild the Churches effort does -- give people of all faiths a chance to respond in with a love that will always be greater than any hate."
"Our young activists remind us to 'love and support each other!,' said Rabbi Susan Talve of Central Reform Congregation in St. Louis. "We will continue to rebuild every church with our love and support and the good in us, in all of us, will win."
"All people deserve a sanctuary--a sacred haven of peace. To desecrate and destroy a sanctuary is a heinous act." said The Rev. Dr. Heather Arcovitch, Senior Minister of First Congregational Church of St. Louis. "We are praying that God will spread a shelter of protection and comfort over our Black sister congregations, and we invite faithful people of all faiths to join in being Gods hands and heart in doing it."
Anyone can contribute to the fund online here -
https://cccathedralstl.dntly.com/campaign/2571#/
Those wishing to give can also make a check out to Christ Church Cathedral with "Rebuild the Churches Fund" in the memo line and send it to:
Rebuild the Churches
c/o Christ Church Cathedral
1210 Locust Street
St. Louis, MO 63103
For more information on this story or anything about the life of Christ Church Cathedral, contact the Very Rev. Mike Kinman at
mkinman@gmail.com
or 314.348.6453.