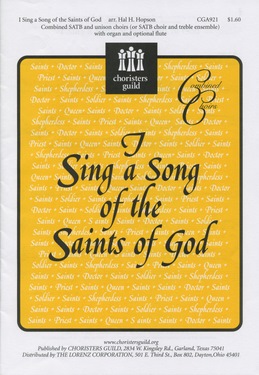 At the parish I grew up at (St. James, Birmingham, MI), their children's chapel had beautiful stained glass windows of this hymn by Lesbia Scott and first published in 1929 (the windows as I remember them in parenthesis):
I sing a song of the saints of God
,
Patient and brave and true,
Who toiled and fought and lived and died
For the Lord they loved and knew.
And one was a doctor, (Albert Schweitzer)
and one was a queen, (Queen Elizabeth)
And one was a shepherdess on the green; (Joan of Arc)
They were all of them saints of God, and I mean,
God helping, to be one too.
They loved their Lord so dear, so dear,
And his love made them strong;
And they followed the right for Jesus' sake
The whole of their good lives long.
And one was a soldier, (George Washington)
and one was a priest, (
?)
And one was slain by a fierce wild beast; (Dietrich Bonehoeffer)
And there's not any reason, no, not the least,
Why I shouldn't be one too.
They lived not only in ages past,
There are hundreds of thousands still.
The world is bright with the joyous saints
Who love to do Jesus' will.
You can meet them in school, or in lanes, or at sea,
In church, or in trains, or in shops, or at tea;
For the saints of God are just folk like me,
And I mean to be one too.
A hymn to remind us that we are called to be saints too!
("Teach by works more than by words. We must all try to be preachers through our deeds." ~ St. Teresa of Avila.)