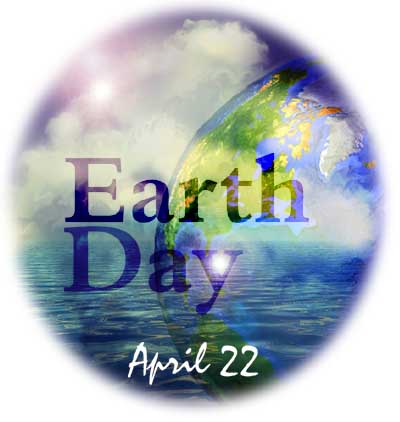 Prayers for Earth Day:
O heavenly Father, who hast filled the world with beauty: Open our eyes to behold thy gracious hand in all thy works; that, rejoicing in thy whole creation, we may learn to serve thee with gladness; for the sake of him through whom all things were made, thy Son Jesus Christ our Lord. Amen.
O gracious Father, who openest thine hand and fillest all things living with plenteousness: Bless the lands and waters, and multiply the harvests of the world; let thy Spirit go forth, that it may renew the face of the earth; show thy loving-kindness, that our land may give her increase; and save us from selfish use of what thou givest, that men and women everywhere may give thee thanks; through Christ our Lord. Amen.
O merciful Creator, thy hand is open wide to satisfy the needs of every living creature: Make us, we beseech thee, ever thankful for thy loving providence; and grant that we, remembering the account that we must one day give, may be faithful stewards of thy good gifts; through Jesus Christ our Lord, who with thee and the Holy Spirit liveth and reigneth, one God, for ever and ever. Amen.
From Episcopal Relief and Development:
Today, Episcopal Relief and Development commemorates Earth Day 2008. Earth Day is a call to action to protect the earth against the destructive impact of climate change on the health and well-being of all people. By working to achieve Millennium Development Goal 7 -ensure environmental sustainability- Episcopal Relief and Development is committed to protecting the earth's threatened ecosystem. The organization's programs to alleviate hunger, create economic opportunities, promote health and fight disease and respond to disasters are implemented with respect for the earth and defend against environmental degradation while alleviating the suffering caused by poverty.

"Episcopal Relief and Development's programs strive to help individuals to address and to counteract the devastating effects of climate change at the local level," says Abagail Nelson, Vice President of Programs for the agency. Episcopal Relief and Development's worldwide programs implement forestry projects, create tree nurseries and maintain woodlots. Families are provided with smokeless stoves that require minimal wood to burn and protect against the severe respiratory infections caused by the smoke from open fires. Farmers are taught innovative techniques that safeguard the land while improving the food supply.

For example, in Ghana, Episcopal Relief and Development is working with the Anglican Diocesan Development and Relief Organization (ADDRO) to counter the effects of erratic rainfall which has been made worse in recent years by climate change. Mariama, a 48 year-old mother of six was struggling to grind out an existence from a small farming plot in a part of Ghana that is plagued by persistent drought. Thanks to a local partnership between Episcopal Relief and Development, the Diocese of Tamale and ADDRO, Mariama was trained in soil-replenishing dry season vegetable gardening and was given $100 to become a member of a farming cooperative. Within one year, the group tripled their initial investment and added new crops to their rotation. "Before the program we could hardly feed ourselves," said Mariama, "now we can feed, clothe and educate our children."


To help Episcopal Relief and Development protect the environment while alleviating suffering, please make a contribution online at
http://www.er-d.org/